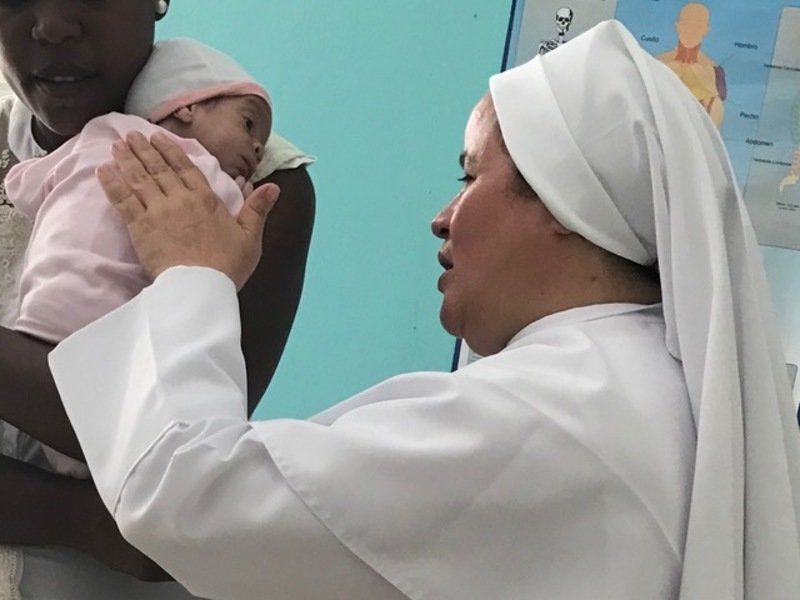 by Jeff Stockman-December 2, 2017 Gloucester Daily Times
Cevicos is a small town in Central Dominican Republic that is the home of about 23,000 souls. The Holy Family Cevicos Mission has been visiting Cevicos three times a year for the last 17 years. My wife, Linda, and I recently came back from our first mission trip there. The experience we had in Cevicos was life changing.
There were 10 missionaries who went in October to Cevicos. A retired English teacher, a clammer, an engineer, a librarian, a banker, a graphic designer, three nurses and a pediatrician. We each brought with us two 50-pound bags of medications, medical supplies to stock the clinic's pharmacy and a willingness to help others.
The Holy Family Cevicos Mission was first started 17 years ago by Deacon Bill Kane from St. Joachim Church. In its early days the missionaries stayed with the nuns or with families in the community. Now it is based in a 5-year-old building that can accommodate up to 15 missionaries. It has five exam rooms, a pharmacy, a waiting area and two classrooms. The entire building was built from funds raised by the Holy Family Mission, largely through the efforts of George Lieser. George is a Rockport resident with seemingly unbounded energy and faith. He is a man of great spirituality and generosity and has a good head for business and organization. Without George I don't believe the mission would exist.
Cevicos is not like the Dominican Republic that most tourists visit. It is not a place on the coast with high-rise, all-inclusive resorts. It is a town of stark contrasts. There are a few well-off people. They are the land owners and politicians. The majority of the people are desperately poor. Most of them toil in the pineapple fields or sugar plantations. The lucky ones have a cement floor and a tin roof. Most homes have no running water or electricity. The front door is a rag curtain and the windows have no glass or screens to protect them from insects, wind or rain. Those homes with electricity, including the mission, endure daily power failures so that the power is only available about eight hours a day. That makes refrigeration almost impossible. The water supply is abysmal. Water is drawn from a brown, sluggish river filled with trash and other waste. The water treatment plant is mismanaged and poorly engineered, making it largely ineffective. It is no wonder that almost every one of the patients I saw were infected with parasites such as amoebiasis, giardia and worms.
There is a small hospital, several local doctors and a pharmacy in Cevicos. Most people have no insurance and even if they are seen by a doctor, rarely can afford their prescriptions. The local physicians have very little to work with. Access to medications, radiologic studies and laboratory work is very limited. As a result the people of Cevicos suffer and die from treatable illness every day. They do not die well. There is no hospice care. There is limited availability of pain medications. Only the wealthy have access to health care. I see it as a warning of what could happen to us here in the United States if we do not maintain affordable health care for everyone.
The mission clinic starts seeing patients at 9 a.m. but the queue at the gate starts to form at 6:30 a.m. In an average day more than 250 patients are seen. We couldn't have achieved this without the help of the local physicians who donated their time and worked tirelessly, shoulder to shoulder with us. I was nervous the first day. So many people were looking to me for help. Sor Mariana and George guided me through that first day. Entire families come in at the same time. Quickly I began seeing 10 to 12 patients an hour. In addition to the all-encompassing parasites, I treated hypertension, diabetes, malnutrition and pneumonia, as well as the common childhood diseases I am used to treating here in Gloucester. People were polite and patient despite waiting for hours. We had the Sor's "special patients" — children with deafness, blindness, limb abnormalities, congenital heart defects, caustic ingestions and congenital vascular anomalies. We saw neglect/abuse cases that would have challenged our social services department here in the United States. We also saw adults with hideous ulcers due to diabetes, gangrenous wounds and crippling fractures that had never been treated properly. We saw AIDs, teen pregnancy, urinary tract infections; the list goes on and on. Miraculously, it was never overwhelming. Instead I felt energized in a way that I haven't felt for a long time. We were doing God's Work.
There is one case that stands out from all the rest. Little 2-month-old Baby M was born with part of her bowel on the outside of her body. The doctors were able to surgically tuck the bowel back into place within hours of her birth. Unfortunately, her teen mother was unable to afford to stay in Santiago after the surgery. Shortly after returning to Cevicos, Baby M's mother's milk dried up. The family tried to stretch what little formula they had by mixing it with extra water and rice. When Baby M arrived at the mission clinic on Monday morning, she weighed just over 4lbs. She had diarrhea from the watered down formula and possibly secondary parasitic infection. She was the color of gray clay. Her hands were cold despite the 87-degree heat and high humidity. She had labored breathing and a distended abdomen. She was at death's door. But baby M is a fighter. She gulped down a bottle of properly mixed formula. We started her on antibiotics. Sor Mariana met her grandmother and convinced her to guide Baby M's teen mother, and help care for her. We provided formula and clean water as well as instructions on how to mix it. I later learned the Sors placed Baby M's intake form on the altar at the convent in the arms of The Virgin Mary and prayed for her. Miraculously, two days later, she returned to the clinic. She was still wasted in appearance but her eyes were bright and when she looked up at me, she smiled. My heart soared at the sight of that smile. I have rarely felt such joy. The mission provided money for transportation back to Santiago and Sor Mariana called her surgeon and arranged for follow up. I know she is in good hands now.
I want to thank Alex and Bill at Conley's Pharmacy for ordering our pediatric medications; Dr. Carbone at Cape Ann Pediatrics for generously contributing to the cost of supplies and medications; and the Fulford family for donating a nebulizer, asthma medications and even some toys to give out to the children at the mission clinic. I also want to thank Michael, Shep, Dan, Phillis, Kathy, Kathleen, Lillian and George for giving us the opportunity to do these great works of charity and help bring hope to this faithful community. Thank you to all of you who have given to the mission. One hundred percent of your donations go directly to doing God's work in Cevicos. Each trip is more expensive than the last as the number of families that we help increases.
If you would like to see photos of the mission or to help bring faith and hope to Cevicos with a contribution, please visit us at our website www.HolyFamilyCevicos.com. I have discovered that the spirit of the missionary is in all of us, and giving of oneself in this way, is itself a gift that brings enormous satisfaction.